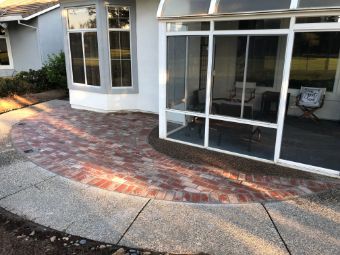 Brick pavers are construction materials that can come in handy if you need durable features and an aesthetically appealing outdoor space. There is nothing that would be as appealing as a driveway, patio, or walkway that has been paved using brick pavers. Not to forget, getting a trusted and reliable contractor such as Hayward Concrete and Masonry can make the project a reality within your specifications.
Talk to Hayward Concrete and Masonry for all your brick paving needs in Hayward. Drop us a call through (510) 907-7057 and speak to an expert or send us a message on the quote form on this page.
About Us
Hayward Concrete and Masonry is a well-established, locally owned, and trusted concrete and masonry contractor. For many years, the company has been in this field to become the household name among the residential, commercial, and industrial clients looking for expert concrete and masonry services. You can be a part of our successful journey and satisfied clients who are proud to have entrusted their projects to us.
Our team is specially trained, skilled, and experienced in everything masonry and concrete. The company has also invested in the best and latest technology, tools, and equipment to fit and meet the industry's changing demands. With us handling your project, you can be assured that it is in the right hands and that you will get the desired results without any compromise.
Our Brick Paving Services
Our brick pavers are installed by top industry experts using advanced tools, equipment, and techniques. Depending on a client's specifications, we can set them in a base of either mortar or paver sand. Because we understand the need to have a strong foundation for a feature such as a driveway, we make sure to prepare the surface well, remove the soil to a fitting depth, and then add gravel to the excavated area to further make the base firmer.
Upon laying the bricks, we flatten and level the brick surface using different equipment such as heavy rollers. The cracks in between the bricks are usually filled with loose sand or mortar to make the surface harder and steadier.
Many of our clients prefer brick paving because of a range of benefits that include:
An attractive and classic appearance
Durability
Easy repairs
Recyclable
Adds to a property's value
We encourage you to try brick pavers and enjoy a world of multiple possibilities for your yard. They are sure to offer you a timeless look, long-lasting outdoor features, and a detailed architecture for landscaping or aesthetics.
Why Hire Us?
Apart from bringing together a professional team, we have pooled the best talent that the industry can offer. The team is also the most dedicated, committed, and devoted to what they do. To ensure that we deliver what we promise you, we ensure that everyone pays the keenest attention to the project that they are working on from its inception to completion.
You should also trust us to deliver:
Professional services
Residential and commercial brick paving works
Brick pavers installation, repairs, and renovations
Brick flatwork installation
Excellent customer experience
Quick response and faster turnaround
To learn more about our brick paving expertise and how we can help, call (510) 907-7057. Or, you may leave us your info and inquiry message on the contact form on this page. Ensure to ask for our free quote too.