Hayward Decorative Concrete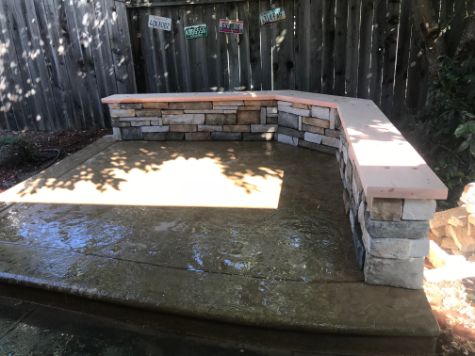 All those dull concrete surfaces on patios or driveway around your home can now be turned into something admirable thanks to decoration technology. With a little cash, you can restore your home's glory again. Decorative concrete is the answer when it comes to upgrading your home. With several options to choose from, you can't miss one that works for you. Let's make beautiful concrete patios, pavers, and driveways turn to reality.
Hayward Decorative Concrete Contractors You Can Trust
Those amazing surfaces you have been dreaming of are just a phone call away. Pick up your phone and talk to us on (510) 907-7057  for the best concrete decoration. We are that concrete contractor you can count on to deliver what you exactly wanted. No need to stay in a dull environment when you can get someone reliable to change the whole thing.
Decorative concrete has several benefits, apart from giving your home an amazing look. To get the most out of this concrete, it should be done by a professional concrete contractor. At Hayward Concrete Pros, our professionalism and experience precede us.  There is no type of decoration we haven't handled.
Styles in Decorative Concrete
There are several techniques used to achieve decorative surfaces. Here are some of the common styles we use to give your surfaces a better look.
Concrete Dyes
Concrete dyes have the ability to change the color on any concrete surface. These dyes can stay for a long time without fading if not exposed to sunlight. They are best used for indoor surfaces to maintain the color. If you want to decorate your indoor concrete surfaces and for all you concrete works, we are the best contractor in Hayward, CA.
Stamped Concrete
Stamped concrete can be made to mimic anything, be it brick or stone. It is the most used style thanks to the unlimited possibilities that come with it.  If you like nature imprint, then this is the choice for you. Shell imprints can be easily made on your surface.
Engraving Concrete
Concrete patterns and shapes can be easily engraved into dry concrete to give it a new amazing look. Precise cuts are made using special tools to make sure you get the best patterns. This style is mostly used for outdoor concrete surfaces.
The concrete patterns can also help create traction on wet surfaces to provide a slip-resistant floor. Besides adding an aesthetic value, it also ensures your safety.
Stamped Overlays
Stamped overlays are used to create surfaces that imitate different textures. Rubber imprinting tools are pressed into poured pre-mixed concrete.  The concrete will dry with imprints made by the rubbers. The rubber stamps won't stick in the concrete as release agents are used to making them removable.
Hayward decorative concrete is the best option for anyone who wants to make their surfaces admirable. Give us a call today if you need any help with concrete works. Dial (510) 907-7057 to for a free estimate.