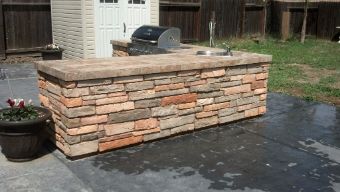 One of the best ways of improving your residential or commercial property's appearance is by using stone veneer features. You can improve your yard's curb appeal while also increasing your property value with professionally installed stone veneers. With a reliable and trusted stone veneer contractor in Hayward, you can have a project that is both valuable and aesthetically appealing, yet in the most affordable way with Hayward Concrete and Masonry.
To contact Hayward Concrete and Masonry, hire our services, or get a free quote, call our main phone line (510) 907-7057. Better yet, we have another option for you. You can send us a detailed inquiry message and your info using the quote form on this page.
About Hayward Concrete and Masonry
Hayward Concrete and Masonry is a name that is trusted in Hayward and beyond for offering professional and efficient services. As a concrete contractor, we are the preferred name and most sought-after guys for driveways, patios, foundations, walkways, among other concrete hardscaping features. We are also one of the most preferred names as a masonry contractor due to our efficiency in masonry work, including the installation of fireplaces, seating features, water fountains, walkways, and other masonry works.
Our Stone Veneer Services
If you are the client who prefers the appearance of the natural stone side but costs are pulling you behind, you can have a rather affordable option in stone veneers. You can call Hayward Concrete and Masonry experts and have them install a durable and sturdy project. Talk to us now and get a chance to explore our years of experience and have our work on your stone veneer project for commercial, industrial, or residential properties.
Using stone, we can introduce you to a world of possibilities and for a variety of features. With its timeless setting, stone can be used on different outdoor and indoor features, including countertops, feature walls, outdoor fireplace, and seating features, kitchen backsplash, and beauty to the exteriors of your property. What is even better is that you have a stone veneer contractor who can get you a project that gives you back value for your time and money.
To get in touch with us, dial our main phone line (510) 907-7057 and speak to an expert about your project needs. You may also send those details, make inquiries, or ask for our free quote using the contact form on this page.