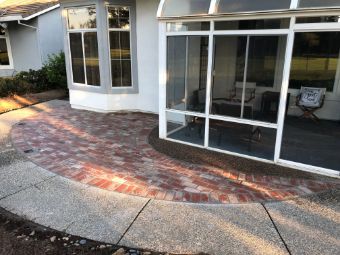 Are you considering building a hardscaping feature using bricks? Well, you are on the right path to getting a durable and appealing feature only that you will have to hire expert hands for it. Luckily, if you are in Hayward, Hayward Concrete and Masonry has a bricklayer for every client who needs to install any hardscaping feature on their yard using bricks.
To contact us, call (510) 907-7057 and talk to our customer care team. You may also reach the team using the quote form on this page and get a free and instant quote.
About Us
Hayward Concrete and Masonry is a concrete and masonry company serving the Hayward region with top quality services. We are a well-established and locally trusted company with deep relations with commercial and residential clients in the locality. Our primary goal is to give all our clients aesthetically appealing, robust, and durable structures using concrete or masonry materials.
At Hayward Concrete and Masonry, we believe in getting our clients what we would expect from our contractors if we were the clients. To do this, we have ensured that we always invest in the best and latest technology when it comes to techniques, tools, and equipment, as well as hiring qualified and competent contractors. These qualities have made us a darling of many and a household name across Hayward.
What We Do
Our bricklaying services are varied and dependent on each client's needs. Among them, we have the construction of:
We also deal with:
New brick installations
Extensions
Brick restorations
Repointing
Brick chimney repairs
Why Hire Us?
Hayward Concrete and Masonry are preferred because of the reputation that accompanies our name. To begin with, we are dependable and trusted because we deliver what we promise, often beyond our clients' expectations. People also love us and refer their friends to us because:
We are there when they need us regardless of the project size or dimensions. Our team has vast experience and skills dealing with small- and large-scale projects and delivering according to the agreed-on deliverables. Whether one is looking for services for small improvements or constructing a whole new structure, therefore, we are here for you.
Hayward Concrete and Masonry also offers complete services from drawing the project plan to making the final touches. Our experts also give our clients a free quote for every project and render free advice whenever needed.
A responsive customer care team that ensures to listen to your project needs and advise you accordingly and for free.
Talk to us today and let us forge a way forward for your bricklaying needs in Hayward. Our customer care team is only a call away and would be more than glad to attend to your needs.
Call our main phone line (510) 907-7057 now and speak to an expert. To get a free quote, too, fill in your info and leave us your questions on the quote form on this page. Our team will revert as soon as possible.