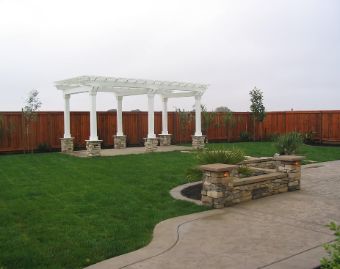 A concrete slab is a common feature among the structural elements of modern structures and buildings. It consists of a flat and horizontal surface made of cast concrete and cured to firmness and sturdiness. When you need one installed for your residential or commercial construction needs, Hayward Concrete and Masonry can talk to and get a guaranteed service delivery package with a difference.
Contact Hayward Concrete and Masonry now and furtherly discuss your concrete slab in Hayward. Please drop us a call through (510) 907-7057 or fill out the contact form on this page. Ensure to request our free quote while at it.
About Us
Hayward Concrete and Masonry are your concrete and masonry masters in Hayward and beyond. We are a company that understands your needs for professional concrete and masonry works, and professionalism and efficiency come with that as a package. With years of experience and a team that boasts of decades of combined experience, we can assure you that we are your desired contractors.
Whenever you need to install a driveway, patio, or walkway, we are the team to call. All your needs for outdoor fireplace features, seating features, and kitchen needs are also our calling. Talk to us, too, if you need foundations, retaining walls, concrete works such as stamping, resurfacing, or finishing, and masonry work such as brick masonry, stone veneer, and paving stone services.
Concrete Slab Services
Hayward Concrete and Masonry can install a range of slabs on any of your properties. The different types that you may choose from include:
One-way joist slab (Ribbed slab)
One-way slab on beams
Two-way slabs on beams
Waffle slab (grid slab)
Flat plates
Flat slabs
Hollow-core slab
Hardy slab
Bubble deck slab
Composite slab
Precast slab
Slab on grade
Concrete Slab Installation
Creating a concrete slab involves the erection of formwork and placement of reinforcement. What then follows is the mixing, pouring, and compacting of concrete. Lastly, concrete cures and finishing is done, and the formwork removed to let the concrete slab cure completely.
We mix and pour enough concrete mix, depending on the slab's intended use, as our experts may determine it. For example, if it is a garage floor slab, we know that it needs to be resistant to pressure from the heavy pounding of equipment and traffic. Here, we make sure to follow the laid down building codes for a concrete mix while also considering the climate and water table of the particular area.
Curing Concrete Slab
To ensure that you get results that will not be taking you back to your contractor to complain, we finish up with curing the slab. If the concrete is cured well, it improves its strength, durability, wears and tear resistance, and water tightness. Curing, it is essential in that it helps to:
Retain some moisture in the concrete slab to allow it to continue gaining strength.
To delay probable drying and shrinkage until the concrete has become strong enough to resist shrinkage and cracking.
Curing concrete is done through:
Water Curing: The concrete is flowed, ponded, or mist sprayed and then given enough time to water cure.
Water Retaining Methods: This method uses such materials as canvas, sand, straw, or burlap. The coverings are maintained in a wet condition to keep the slab damp during the curing period.
Chemical Membranes: In this case, a chemical membrane is applied as soon as the concrete work is finished.
Waterproof Paper or Plastic Film Sealing: A waterproof paper or plastic film seal may also be applied on concrete as soon as it is hard enough.
Repairing Concrete Slabs
Apart from installing a fresh slab, we can also repair your existing one. Depending on how it was done, it may start to develop cracks, which may be due to several reasons including insufficient thickness, poor concrete mixing, inadequate steel use, hydro-static pressure, and ground movement. Whichever the case it is for you, we can repair it for you professionally.
Hire Professionals, Enjoy Professional Services
When you hire industry professionals, you get professional results. Talk to Hayward Concrete and Masonry today and live to be proud of your decision. As our primary goal is to get you products that match your time and money, you can entrust all your concrete work to us.
Dial our main phone line (510) 907-7057 and speak to an expert. You may also leave us your info and inquiry messages on the quote form on this page for more inquiries.