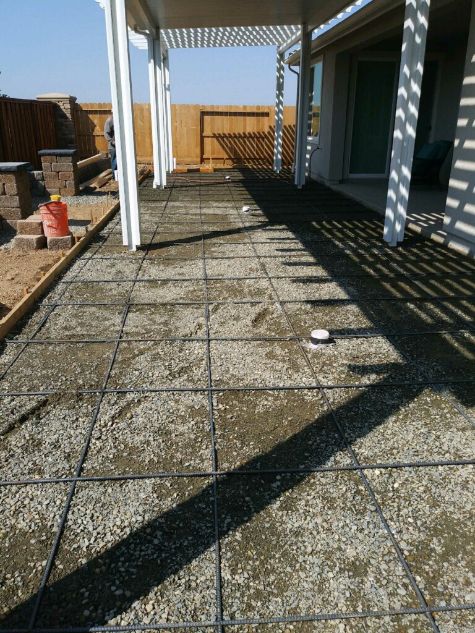 Stamped concrete refers to concrete in a patterned and/or textured state. Concrete, in this case, may also be embossed to resemble brick, flagstone, slate, tile, stone, wood, and a range of other patterns and textures. If you are looking for a better way of giving your patios, driveways, walkways, sidewalks, pool decks, or interior flooring a different look, you can consider stamping them and Hayward Concrete and Masonry can help you with that.
Contact Hayward Concrete and Masonry, your reliable stamped concrete contractor in Hayward. Drop us a call via (510) 907-7057 or leave us a message on the contact form on this page to get our free quote.
About Hayward Concrete and Masonry
Hayward Concrete and Masonry, as the name suggests is the premier and go-to concrete contractor for everything concrete and masonry in Hayward. We are a trusted name, thanks to the quality of services that we offer. When you entrust your project to us, you can be assured of quality services, a responsive team, and a contractor who can get you a project that gives you value for your time and money.
Our Stamped Concrete Services
Imprinting patterns on a freshly poured concrete surface can expose you to a range of high-end looks. You can opt for options that can mimic stone or even brick and at a lower cost than most other options or materials. You can get these services from the expert team at Hayward Concrete and Masonry with a guarantee that you will never regret making that decision.
Stamped concrete can replicate stones such as tile, bricks, flagstone, and slate. If you want to, you can also have yours to mimic wood and also explore a number of patterns and color choices for more beautifying options. Since it is also an affordable option and requires less maintenance, it would be a sound investment plan for you.
Why Stamped Concrete?
Stamped concrete in Hayward is the right choice for you because of the many benefits that it brings along. With it, be sure to enjoy such benefits as:
Affordability compared to natural stone, pavers, or bricks.
Requires less maintenance when it is sealed
Durability.
Easy to install
It is good for enhancing the outdoor spaces that you have and adding to your home value.
It is slip-resistant if treated with a non-skid additive.
Stamped Concrete Patterns
Stamped concrete allows you to choose different patterns to go with. The most common ones include flagstone, slate, fieldstone, cobblestone, wood, and brick.
Stamped Concrete Color Options
The most common colors when it comes to stamping concrete are grays and earth tones. Brick patterns are, however, also colored in russet or red hues. Also, one is at liberty to mix colors or have them layered or antiqued with tints or stains to create a virtually endless list of possibilities and looks.
To contact us for all your concrete stamping needs, dial (510) 907-7057. Alternatively, leave us your info and inquiry messages on the quote form on this page.