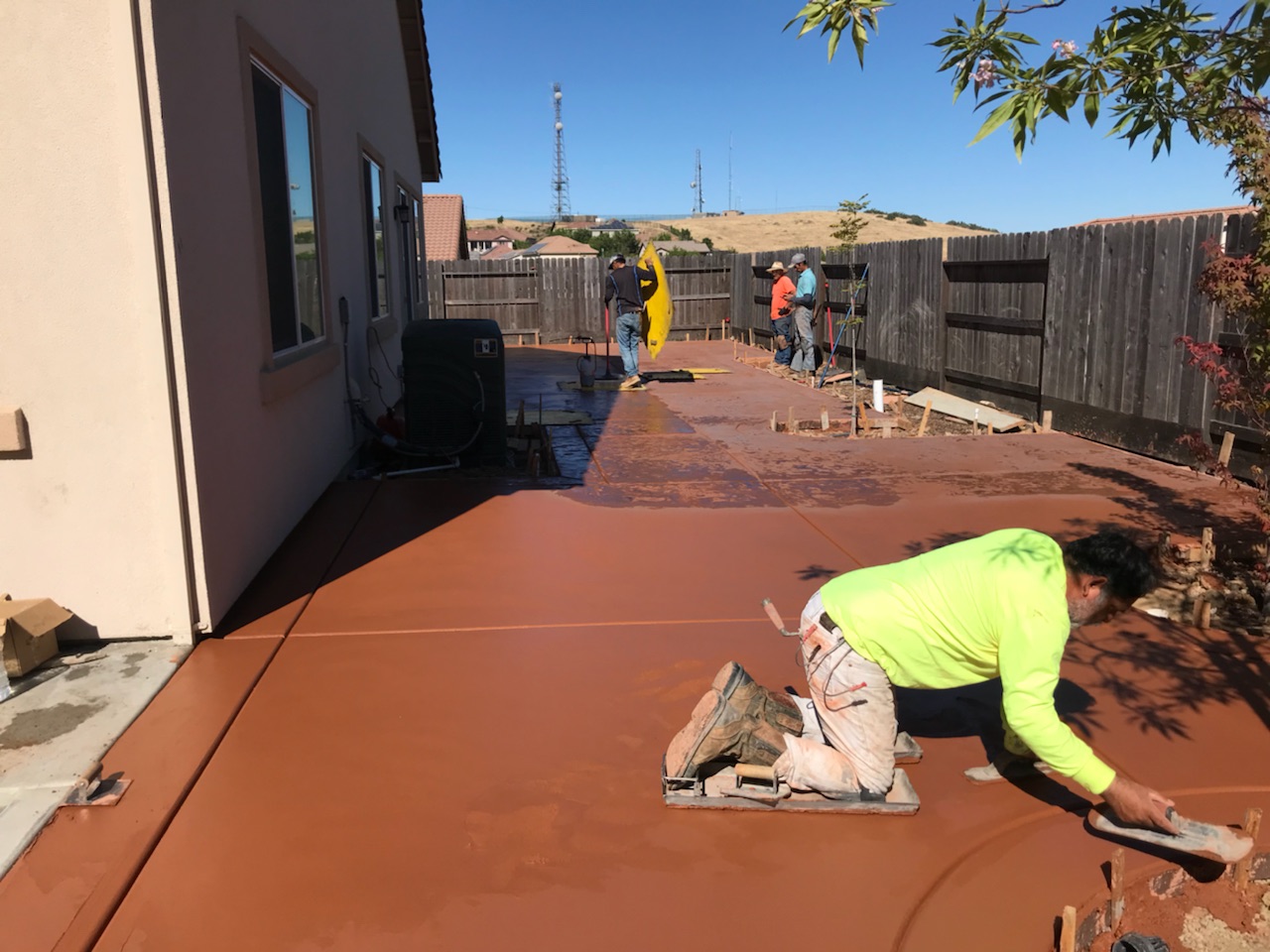 Concrete's natural grey color may not be that attractive to some. For a home to be lavish and attractive, its surfaces should be colorful. A home with grey color isn't what you want. Well, if you are tired of those dark concrete surfaces, there is a solution. Colored concrete is the new way to go for any homeowner who knows the value of a house with amazing surfaces and floors.
This type of decorative concrete works magic in giving your home a whole new look. Just a little color, and you will love the new look. Nowadays, nobody wants to have the dull natural concrete color on their property. From driveways, floors to walls, people are transitioning from dull grey concrete.
As much as colored concrete is guaranteed to amaze you, it must be professionally done to achieve this. And no one does that better than us at Hayward Concrete and Masonry. We are committed to providing competent concrete services including colored concrete in Hayward, CA. Our affordable prices and honesty are the reason why we are recommended by everyone. If you need this to turn your home into something splendid, give us a call on (510) 907-7057.
Why Colored Concrete
Any concrete contractor will recommend this if you want to achieve an amazing colorful floor. Let us have a look at the reasons why this type of decorative concrete is gaining popularity with such speed.
Color Choices
There is nothing satisfying like having a wide range of options to choose from when it comes to giving your premises an upgrade. That is the best thing with decorative concrete. This allows you to go for something you love, in this case, color. There are many colors available when it comes to colored concrete. This also allows us to give you a customized colored surface as per your needs.
Economical
Since there is no additional floor covering, you are going to spend less on this option.  Although the initial cost might be slightly higher than other options, the returns are worth it since it will last. The fact that no replacement will be needed makes it ideal.
With our affordable concrete services, it will be a wise choice to give your home a new look. We are a good listening contractor. Talk to us, and you won't regret working with us.
Durability
Another reason to go for this type of decorative concrete is the durability and strength qualities of concrete. Durability is something that will save you a hell lot of money. With the durability and color of your choice, this option is everything you ever wanted for your home.
Easy to Maintain
It will require less effort to keep your concrete in good shape. The money spent on maintaining this type of decorative concrete is equally less. Sealing is only required twice a year to maintain its protective layer. Otherwise, a mop and some cheap cleaning agents will keep your concrete shining.
Varieties of Colored concrete
This type of decorative concrete comes in several varieties. All you have to do is choose one and let us make your project amazing.
Concrete Dyes
If you want to achieve a bold color, this option is the way to go. Concrete dyes are able to give the best colors of your choice.  They are best used indoors since they are susceptible to fading if exposed to sunlight.
Stains
Stains have the ability to give your concrete surfaces a lavish look by penetrating the concrete. They are usually used to achieve a translucent look on the floor.
Integral Color
The color of your choice is added to the concrete mixture prior to pouring. It is preferred for outdoor projects since it is fade resistant.
If you are looking for a reputable concrete contractor, then you have come to the right place in Hayward, Ca. Reach our top concrete contractors at Hayward Concrete and Masonry, dial (510) 907-7057. We will get back to you with free estimates.