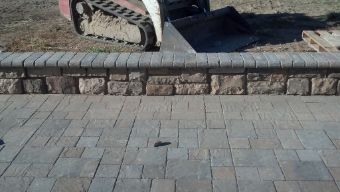 There is one trick to making your yard more aesthetically appealing and feel more manicured. It is the installation of a nicely defined and detailed hardscape using paving stones. In and around Hayward, if you need such hardscaping features, you can speak to the industry leaders, Hayward Concrete and Masonry to get your dream project come to reality.
To hire our services or for a free consultation and quote, call (510) 907-7057 or leave us your info and inquiry messages on the contact form on this page.
About Hayward Concrete and Masonry
We are a full-service concrete and masonry company with years of experience and a ton of projects that we have worked on since day one. With the skills and expertise that we possess, we can proudly say that we are the solution to all masonry and concrete needs of the Hayward commercial and residential communities.
Hayward Concrete and Masonry is known to produce quality results and projects that are worth the time and money that a client invests in them. We are also known to be honest, truthful, dedicated, and keen to detail. These qualities have helped us to build an empire and a big name for ourselves.
Hire our Paving Stones Services
Patios, paths, and even driveway can make a yard more impressive and enhance the curb appeal. If you are looking for a way to do all that and improve the value of your property, you can explore such hardscape ideas. Hayward Concrete and Masonry has the right personnel, equipment, skills, and tools to help you with that and can install a functional and beautiful yard using paving stones in Hayward.
As a leading paving stone contractor, we believe in delivering results that will meet or exceed your expectations. This is done by having our experts do their research well, assess your job needs on the site, and draft a custom service delivery plan. Every project that we work on then, be it a paving stone patio, stone driveways, retaining walls, stepping stones, or brick sidewalks, is all backed up by years of experience and can serve you for years to come.
Hire our services if you need:
Retaining Walls
If you think that your yard would look good with a retaining wall, then we have got your back. If the yard has a large slope and you wish for it to be more level, we can make that happen with a retaining wall that can also help to prevent soil erosion and keep the soil intact. The wall will also pave the way for stone steps instead of a slippery decline and make the less usable part of your property more useful.
Stone Patios
Hayward Concrete and Masonry can build stone patios on your commercial and residential properties too. Our designs and ideas, in this case, are endless, and your imagination or budget can only limit your options. Otherwise, we can get you a ton of styles and colors to choose from. If you would like to mix different paving stones for a more personalized and unique stone patio, we are open to every suggestion.
Stone Veneers
The use of stone veneers works best for people looking for the appearance of natural stone siding, but the associated costs may be a problem. Luckily, and if you are in this category, you have Hayward Concrete and Masonry to call and get the job done, be it small or big. Stone veneers also allow for varied color schemes and styles, and we are here to help you explore them.
Steps
We can also install beautiful and functional stone steps alongside retaining walls with guaranteed service, for years to come.
Fire Pits
If you are looking for more amazing firepits, probably you should consider some made using paving stones. Hayward Concrete and Masonry are on standby to help you with that, too, and give you a better entertainment spot.
Paving Stone Driveways
Should you consider a paving stone driveway, you should not hesitate to contact us either. We have the skills and experience to get you one or more for your properties for an amazing curb appeal all around. Stone driveways are crack resistant and are not subject to impacts of freezing and thawing and, therefore, will serve you for many years ahead.
Contact Us Today
Contact us now and let us use our skills and experience to give your yard the aesthetic appearance that it needs. With paving stone ideas, we are sure you will have more reasons to feel your yard is like you want.
Call our main office line (510) 907-7057 and speak to an expert. You may also leave us your contact info and inquiry messages on the contact form on this page.